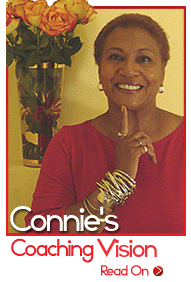 Connie Rose is the dynamic President of C. Rose Coaching which provides leadership and executive coaching services. She has proven success in her partnerships with business people who want to move to the highest possible level in their career and still maintain their authenticity and integrity. Her clients gain a new sense of clarity around what they want and how to get it.
Just a few client comments:
"Connie is a pleasure to work with even as she offers serious and insightful guidance."
"Connie proved to be a terrific partner for me. She did a great job of helping me let go of things instead of my usual rehashing. "
"I grew a great deal through my connection with Connie and am very grateful for the time and support."
"I highly recommend Connie to anyone who is looking for positive, holistic coaching"
Her client list includes companies in the pharmaceutical, energy, financial, government, telecommunications and non-profit sectors. She is also an executive coach at the Wharton School, University of Pennsylvania and was previously with the Villanova Executive MBA Program. In addition, she coaches participants in the Bryn Mawr Nonprofit Executive Leadership Institute.
Connie brings extensive personal leadership from her hands on experience in corporate America with several Fortune 500 companies. She spent over 10 years in Human Resources developing corporate policy, providing career counseling, leadership development, and managing recruiting events targeted at underrepresented groups. In addition, she spent time in sales and marketing positions.
Connie also demonstrated her leadership skills as Board President for Wings for Success, a non-profit that provides support for disadvantaged women seeking to enter the workforce. She previously served as VP-Education and Board Member for the Philadelphia Area Coaches Alliance.
Her academic background includes a BA in Psychology from Ohio University, an MBA in Marketing from LaSalle University in Philadelphia and completion of the University of Michigan Executive HR Program. Connie has also attained the level of Professional Certified Coach from the International Coach Federation. Her most recent training was to attain Certification in Positive Pyschology.
Most importantly, Connie coaches because she cares about supporting strong leaders. Her vision: a world where we each apply our talents, skills and abilities to work that enables us to learn and grow, to contribute to making the world a better place and to achieve personal satisfaction.
"You have brought more enjoyment and pleasure into my life. People respond to the aura I project. You have helped me to realize I am the #1 priority in my life and that change is good for the soul."
Bank Officer, First National Bank of Chester County